Some of our recent projects
The Chamberlain on West 87th Street
Billed as a gracious approach to living on the Upper West Side, this is a new, yet prewar inspired, luxury apartment building.

Designed to reflect the iconic architecture of the neighborhood,
The Chamberlain is destined to be a respected new addition.

Fabricator's Secret Inc is proud to supply the exterior granite
in Deer Isle honed finish.

---
One Wall Street
This historic, art deco masterpiece is going through an office-to-residential conversion. As a landmarked building, the exterior will largely be protected.

However, the new use and planned retail space call for some minor renovations. To convert old service entrances to retail, it was necessary to match the Deer Isle from the original 1930s construction.

Fabricator's Secret Inc is proud to supply
the new granite pieces
in Deer Isle honed finish.

---
165 Mercer Street
The transformation of SoHo continues unabated. This century and a half old wonder is going from parking garage to office and retail. The cast-iron classic will retain most of it's original facade with some new granite elements. Iron work will be repainted in the oldest found finish - a creamy beige.

What started as a manufacturing center, over time the building has morphed from a warehousing, to stables, to storage for bootleg during prohibition, to a parking garage. Now reborn, it's new life will bring a great architectural space to a new generation of New Yorkers

Fabricator's Secret Inc is supplying the new granite curbing and column bases in flamed Caribou Brown.

---
Blue School's Campus Expansion
Blue School is a progressive independent school located in New York City's Lower Manhattan. And they needed some room to grow! Their new building, located at 156 William Street, is being totally renovated to make space as an upper school for the 4th through 8th graders.

Fabricator's Secret Inc is proud to supply the exterior granite - Jet Mist in a sandblasted finish.

---
42 Crosby Street
A new construction luxury condo project in Manhattan's Soho neighborhood, designed by Selldorf Architects. Parking is below grade with a porte cochère providing privacy for residents. At a $1million each for 99 year leases on just the parking spaces, their entrance needed to look the part!

Fabricator's Secret Inc is proud to supply the granite paving in the parking lobby entrance & porte cochère.

---
17 John Street
This 1920s art-deco building, one block east of the World Trade Center, is being repurposed as a hotel/co-working space with collaborative work environments, business networking and events along with extended-stay suites. The conversion to a "Cotel" (collaborative workspace and hotel) and expansion from 15 stories to 23, has Woods Bagot as the design architect.

Fabricator's Secret Inc is proud to supply the exterior granite.

---
Private Garden, Upper East Side
The new owner wanted to redo his back garden terrace, and it is magnificent!

Fabricator's Secret is supplying pavers, treads & risers and garden edge stones, plus jambs & headers for a new opening in the back wall.

The material is Freshwater Pearl, flamed on the walking surfaces, honed everywhere else.

---
Waverly Brooklyn
Part of the booming Fulton Street-Atlantic Avenue corridor on the edge of Clinton Hill and Bedford-Stuvestant, this new mixed-use residential building will contain 48 condo units. The iconic facade by GKV ARCHITECTS is inspired by Bauhaus Modernism, updated for a new century and setting - with architectural concrete 'picture frames', articulated fenestration and hand-laid norman brick.

Fabricator's Secret is supplying the granite facade in Cambrian Black flamed finish.

---
Citizen360
A new project by developer Anbau Enterprises, located at 360 East 89th Street, Citizen360 is at the forefront of innovative urban design and committed to the sensible application of sustainable building practices. SHoP Architects showcased limestone and granite throughout the project.
Fabricator's Secret is the exterior granite supplier.
This project originally called for a granite from India, which we were happy to supply. But after consideration of lengthy supply times and the challenge of ordering additional pieces in the event of last minute changes, the client agreed to switch to a North American stone.
They chose Jet Mist sandblasted finish, which looks great!
Slated to benefit from the newly opened Second Avenue Subway, Citizen360 is part of a real evolution going on in this historic Yorkville neighborhood.

---
151 East 78th Street

Fabricator's Secret Inc is proud to be the supplier for exterior granite at 151 E. 78th Street in Manhattan.

Fabricator's Secret supplied all facade base pieces and plinths, terrace pavers, garden steps and coping, saddles and sills, all in flamed Granite from Deer Isle, Maine.

The 16-story ground up new construction is a luxury residential condominium in a pre-war style, with brick detailing, contrasting limestone, and Juliet balconies. Designed by architect Peter Pennoyer, one of the leaders of the next generation of the neoclassical style, this building is already sold out.
For more project details, click here.
---
Cathedral of St. John the Divine
Our founder, Chris Johnson, is also President of The Laymen's Club of the Cathedral Church of St. John the Divine, which is funding the repair to the Grand Staircase on the Cathedral's western front. After 90 years of unparalleled service, the staircase was in much need of repair. New York's rapid freeze/thaw cycles and millions of pilgrims footsteps had taken their toll. Pollution also impacted the color and appearance of the stone.
Above photo shows work in progress,
at left is the finished job
Chris sits on the Cathedral's Fabric Committee, which is the committee of the Board of Trustees which overseas all the physical buildings and property of the world's largest cathedral. On this project, Chris worked directly with the Cathedral's Capital Project Manager, the contractor and the quarry owner (replacement pieces) to assure a quality job.
The original granite was Freshwater Pearl from Maine and, since it's still available, we were able to obtain matching new pieces for replacement and additional steps. Work includes cleaning the steps, resetting the stones which are out of position, replacing broken steps and clean & caulk riser and tread joints.
To learn more about the project, Click Here
To read the Press Release, click button;

---
Bergen Saratoga Apartments
This new construction greatly upgrades the neighborhood incorporating green, energy efficient design into affordable housing. Clad with columns, base and sills of Absolute Black granite in leather finish - provided by Fabricator's Secret - it will give a very smart appearance with durable maintenance free performance for years to come.

Built by Dunn Development Corp, for the New York City Department of Housing Preservation and Development, this is a fine example of the future of public-private partnership in affordable housing.



---
245 West 14th Street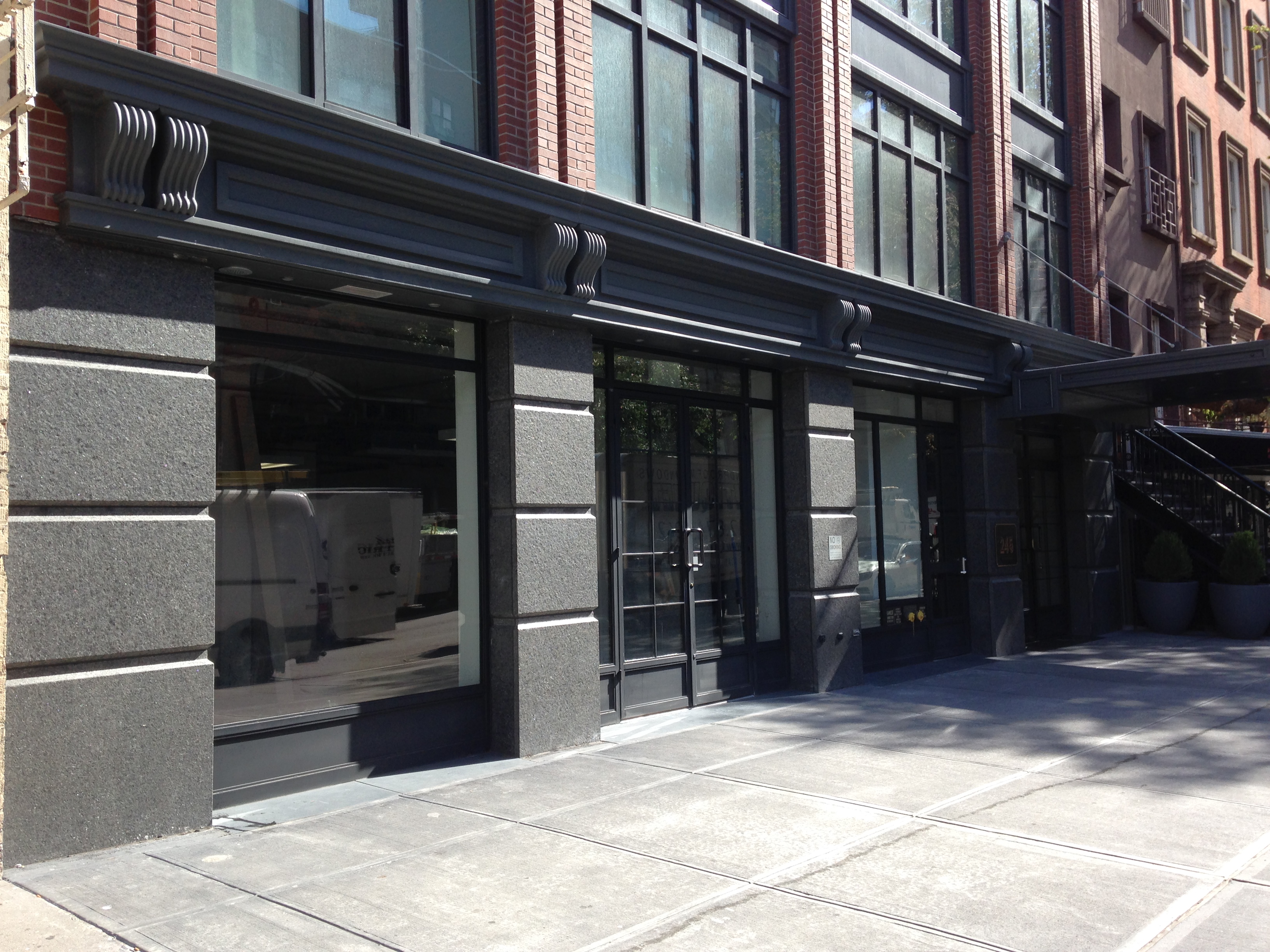 Known as Village Green West, this new building's design has been inspired by turn-of-the-century buildings from the neighborhoods which surround it - the Meatpacking District, Chelsea, the West Village.

Fabricator's Secret supplied the rusticated columns in Atlantic Black granite, in flamed finish. The rest of the exterior is of darkish red brick with large windows steel-spandreled in the French industrial mode.

Click here to see larger photo

In keeping with the times, the building is designed to recall an industrial conversion, but with a modern green twist. Alfa Development is shooting for LEED Gold certification on this project.



---
4 Bryant Park
aka 1071 Avenue of the Americas, this is a 60 year old building redesigned. Rosen Johnson Architects reclad the building's curtain wall and added glass, metal and stone to the lower facade, introducing a new lobby entrance and storefronts.

Fabricator's Secret Inc was the supplier of Deer Isle honed granite and Cambrian Black flamed granite on the facade and front entrance ways.
In deference to it's prime location just opposite the thriving Bryant Park, the building received a new name, and new energy-efficient lighting inside and out, creating a dramatic nighttime statement.



---
Chelsea Market
As part of an ongoing industrial conversion of the 1890's Nabisco factory complex where the Oreo cookie was invented and produced, the Chelsea Market continues to develop and open new areas for retail and commerical use throughout the massive space. Recently, some ancient and sealed up loading bays along 15th Street were opened so that the developer could convert them to retail. Fabricator's Secret was asked to supply all the new base pieces, returns and window sills in flamed Granite from Deer Isle, Maine.
Before (left); example of old facade and former loading bays at Chelsea Market along W. 15th Street
After (right); one of the many new store fronts along W. 15th Street, with new Deer Isle Granite bases and window sills, at Chelsea Market

---
Mystery Train Station
They tell me I can't mention this project for promotional purposes, so I won't. But I've been honored that my partner and I have served as the stone consultants on this project for the past five years. And we were just in Italy inspecting two more containers of marble for this job. Can you guess which one it is? (Photo shows Chris on site during construction)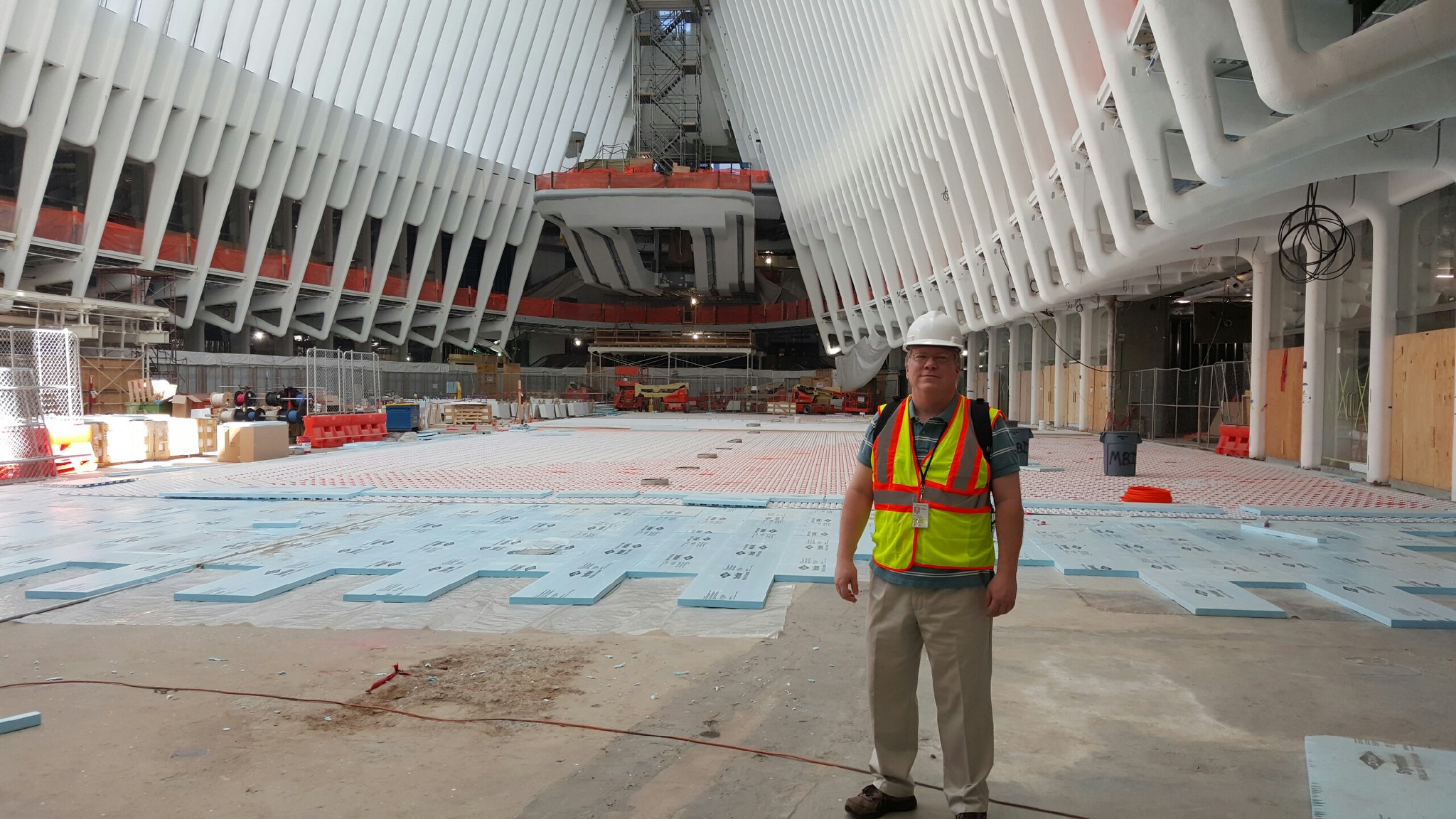 ---
Queens Plaza North
Called QLIC, it is one of Long Island City's most vibrant residential buildings. Fabricator's Secret provided Absolute Black granite for each apartment. Developed by the World Wide Group and built by Lettire Construction, the project was completed in 2015.

The building contains many green features, including a CoGeneration system, a green roof with landscaped outdoor spaces that incorporate native, drought-tolerant plants and feature design elements with post-consumer products and light-saving sensors in corridors and stairs.



---
You can email Chris Johnson at  cjohnson@fabricatorssecret.com
---