.

About Us . . .
Our principals have been suppying natural stone for nearly 30 years. We work with factories throughout the world, all to meet the needs of any project.
Fabricator's Secret specializes in North American production for LEED points and to support the home team. Chris Johnson, our President, runs our Manhattan sales office.
We maintain a full time presence in China too, maintaining factory relations, quality inspections and a Chinese registered trading company to handle all export documentation.
To contact us,
Click Here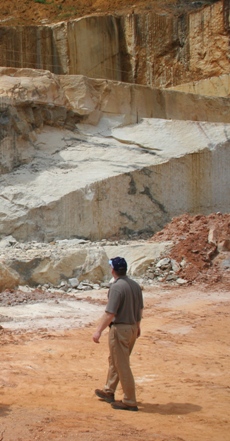 Limestone Fašades
Limestone is softer than granite, making it easier to carve and shape. Available in cut-to-size in many colors. Indiana Limestone is the most famous in the US, but Limestone is also available from throughout North America, the Middle East, Europe and Asia. It comes in many finishes too, including machine smooth (honed), polished, bush hammer and saw cut. For quotes on the materials shown below, or anything else, please contact us at cjohnson@fabricatorssecret.com
Here are just some of the many colors available.
Please note, limestone comes in different densities and durability levels, which is critical to know for a successful application in a high freeze/thaw area like New York City. For example, Indiana limestone is typically a Type 2 (medium density), whereas there are other limestones which are a Type 3 (high density). This can affect the selection of a material plus the thickness which it can be cut. It's very important to specify the right stone for the right application. Just ask us for advice on your next project.
Standard Gray
Indiana

Rustic Buff
Indiana

Standard Buff
Indiana

Variegated
Indiana

Jerusalem Gold
Israel

Ramon Gray
Israel

Beaumaniere
France

Gascogne Beige
France
Some examples of High Density Limestones
particularly suited to New York facades.
Moca Cream medium
Portugal

Moca Cream fine
Portugal

Hauteville
France

Magny
France

Chandore
France

Massangis Jaune
France

Balzac Fleuri
France

Valders Buff
USA
© Fabricator's Secret Inc. - Your source for Natural Stone
- Page designed and maintained by Chris Johnson