.

About Us . . .
Our principals have been suppying natural stone for nearly 30 years. We work with factories throughout the world, all to meet the needs of any project.
Fabricator's Secret specializes in North American production for LEED points and to support the home team. Chris Johnson, our President, runs our Manhattan sales office.
We maintain a full time presence in China too, maintaining factory relations, quality inspections and a Chinese registered trading company to handle all export documentation.
To contact us,
Click Here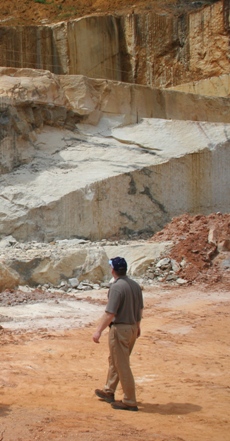 First Choice Material from China
If you are looking for a dependable supplier in China, consider us. We maintain a full time presence in China will the ability to inspect and control a project, as well as prepare all export documents.

Our partners have been doing this for more than a decade. Let us put this experience to work for you. We have specific factories we have been working with over time so that we know the quality of their work. For quotes on the materials shown below, or anything else, please contact us at cjohnson@fabricatorssecret.com
Color Collection
Almost every stone is available in China. Just ask us.
| | |
| --- | --- |
| ANDROMEDA WHITE granite | NAVAJO BROWN granite |
| | |
| | |
| --- | --- |
| PLATINUM KARZAI (aka AQUASOL) | 3rd gen Crystalline White Glass |
| | |
| | |
| --- | --- |
| COSTA ESMERALDA granite | LUNDH'S OCEAN BLUE PEARL granite |
| | |
| | |
| --- | --- |
| ORIENTAL WHITE marble | WOOD GRAIN sandstone |
| | |

Haisa Marble (aka Athens Grain Wood Marble, Athens Grey, Metro Taupe, and Wooden White marble). Comes in light and dark versions - popular as 12" x 24" x 3/8" tile for flooring
OTHER MATERIALS AVAILABLE FROM CHINA;
Click on photos below to see full slab
FARFALLA BLUE

TROPIC BROWN

GOLDEN PEACH

NEW VERDE CHAIN

COSTA ESMERALDA

Chinese IMPALA BLACK

ABSOLUTE BLACK

BLUE PEARL GT
© Fabricator's Secret Inc. - Your source for Natural Stone
- Page designed and maintained by Chris Johnson